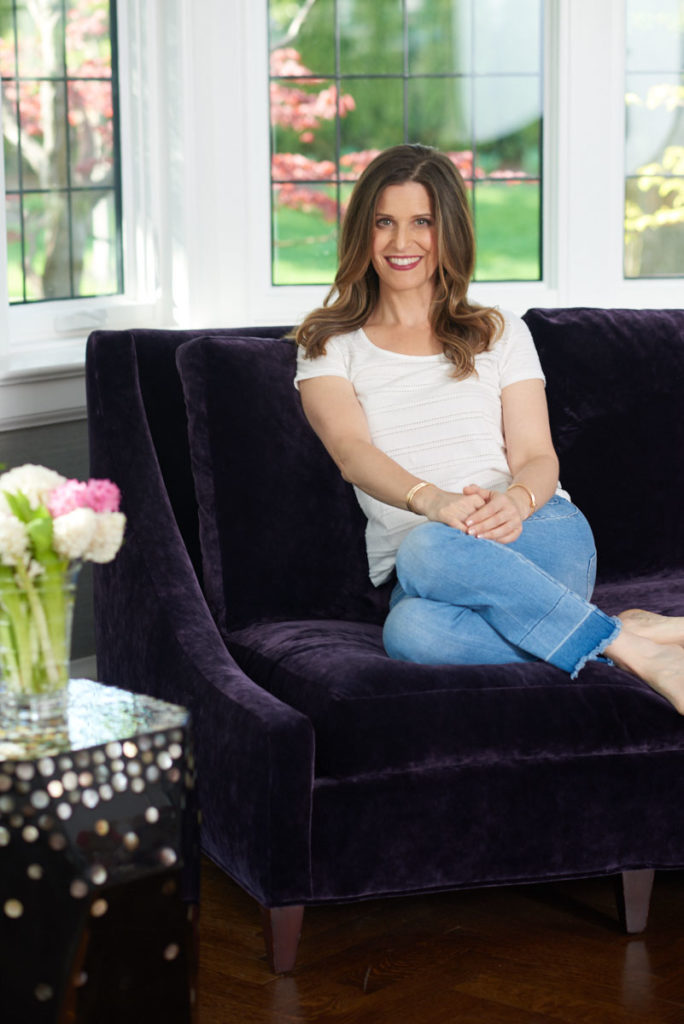 An Interview with Sara
How do you define and deliver your own brand, but work with your clients' needs and tastes?
Each project is an opportunity to create a home for my client, not for myself – I am constantly designing toward this ultimate goal. I look to this client-centered approach to help develop my brand, as a flexible, thoughtful designer concerned with creating effortless living spaces my clients can embrace and inhabit comfortably.
What's the difference between a house and a home?
A house is a structure that offers shelter and comfort. It has all the necessary amenities but lacks character and personality. To me, a home offers shelter and comfort, but it also embodies characteristics of the homeowner and visions that shape their lifestyle. These elements might radiate through their sculpture and art collection, accessories, unique pieces of furniture, heirlooms and other curated items.
Can people design for longevity or do you need to follow trends and change your interior often?
Designing for longevity is essential in many areas of the home. Construction, design and decor is costly and time consuming to work through – it can also be quite stressful for people who do not enjoy the process. I believe there are key areas where longevity should be achieved such as major pieces of furniture, millwork and art. I save trends for less significant items that can be changed as desired to add a fresh edit to the space.
We think the kitchen is where a family belongs together. What design do you incorporate to make it a warm, fun gathering place instead of just appliances and storage?
My favorite feature to include in a kitchen space is an eating bar at the kitchen island.  An eating bar is the perfect place for kids to sit while cooking happens in the kitchen. They can be included in conversation and food preparation as well, or they can sit at the counter to do homework or other activities such as coloring. Counter stools are also the perfect social perch for when guests come over to visit. Another favorite design feature is a banquette seating at the kitchen table. A banquette combined with side chairs automatically creates a more intimate experience when gathered around the kitchen table. The opportunity to share seating, rather than having one's own chair, promotes relaxed behavior and casual conversation. Both the eating bar and banquette configuration are amazing at helping bring people;le together in the kitchen.
What is your favourite room to design?
Designing spaces where my clients unwind and welcome guests in to their home is one of my favorite decorating opportunities.  Family rooms and informal living rooms are often rooms people will feel most comfortable making bolder choices. These are spaces where they feel relaxed and open and ready to step outside of their comfort zone.
How do you approach designing a space for those that demand the best of everything? (Referring to eco-touches, low VOCs and such, obviously)
I am committed to providing eco-aware solutions whenever possible and I try to promote safe, healthy living environments as part of the dialogue when getting to know new clients. Many of my trades and suppliers practice a significant level of eco-commitment and will offer my clients a walk through of their workshops and workrooms so they can experience their commitment first hand. When a client specifically requests a complete eco-design approach, I filter all of my resources to present only those that will satisfy the degree of commitment my client has requested. I always try to work with local suppliers and artisans to help me maintain greater control over things such as furniture construction, finishing processes and even textile fabrication.
Where do you find inspiration for your work?
I am constantly on the lookout for inspiration, regardless of where my day takes me.  I might find an interesting graphic that entices me on a restaurant menu – a quick photo on my iPhone and off I go to the fabric showrooms to find some fabric reminiscent of the graphic for a client's home.  I find inspiration in the most unexpected places and when I least expect it.
What's your favourite social platform to use?
Instagram is by far my favorite social platform. I love how quickly I can breeze through my feed and how easy it is to find interesting people, brands and organizations to follow. Messaging people through tagging is a fun way to start a conversation with some of my most favorite design masters.
What is a small change we can make to a room for big impact?
A fresh coat of paint in a new shade(no VOCs, of course) is the first thing I recommend when my clients are feeling like they want to revitalize their space.  This is also a great time to rearrange wall art and other decorative pieces in the room.